Rotary Table Measurement Comparison
Rotary Stage Motion Measurement Case Study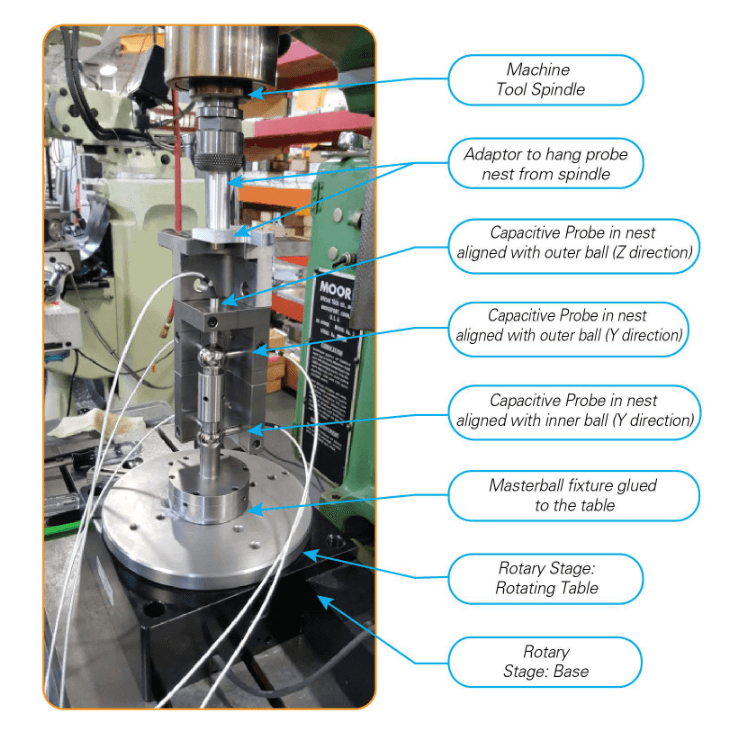 A ROTARY STAGE IS USED by a manufacturer in their machine to rotate a sample in front of the X-ray inspection device. The sample is held on a long shaft attached to the rotary stage. Any rotational errors of the stage are multiplied by the long shaft and move the sample in the X-ray field. This results in measurement errors and can lead to erroneous results.
In order to determine the measurement capabilities and limitations of the machine, the customer needed to know the rotational errors of the rotary stage. By mounting a precision masterball to the rotary stage, Lion Precision was able to measure the synchronous (repeatable) and asynchronous (non-re-peatable) errors of the stage as well as the tilt errors using the Spindle Error Analyzer System.
THE SPINDLE ERROR ANALYZER system developed by Lion Precision is ideal for this. All the rotational errors of the stage can be measured simultaneously in as few as four rotations of the stage. With this information, the customer was able to determine the stage they were using was inadequate. They evaluated several other types of stages and picked the best one for their application.