St. Paul, Minn. USA, March 3, 2015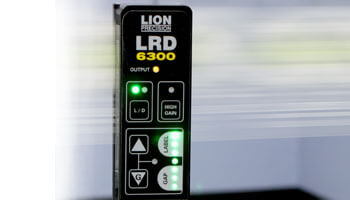 Capacitive sensing technology has been shown to be the fastest, most accurate method of clear (or nonclear) label registration detection, but the sensors are perceived as difficult to adjust and expensive. Lion Precision's new LRD6300 capacitive label sensor has easy one-button setup and a lower price.
The LRD6300 is Lion Precision's new capacitive clear label sensor. Unlike its predecessors, it features push-button controls with one-click AutoGap setup. The sensor includes EasyCheck Verification; a simple system of bright LEDs that make it clear, even at a distance, if the sensor is operating correctly. "We created capacitive label sensors in 1995 and have listened to the demands of our customers ever since. This new sensor received rave reviews during beta testing and answers the market's call for greater simplicity without sacrificing performance; we were even able to drop the price," says Mark Kretschmar, Lion Precision's label sensor product manager.
Since the dawn of the "no-label look," sensing clear labels during application has presented a problem for packagers. LRD brand capacitive sensors were created to solve the problem. Original versions required screwdriver adjustment and sold more than 50,000 units. The market's call for ever-increasing simplicity is answered with the new sensor. Kretschmar adds, "There is tremendous variety among users of label sensors. Some have technical backgrounds, but many do not. The LRD6300 is so easy to setup, anyone could do it with a single button press."
More technical users are often leery of "easy setup sensors" especially "teachable" sensors as they often leave the operator with no manual adjustments. While the LRD6300 has one-button AutoGap setup, the setup remains adjustable with simple up and down adjustment buttons. The EasyCheck Verification makes it easy for anyone to examine the sensor setup as it's running labels. If operators don't like what they see, they can make manual adjustments and instantly see the result.
"Digital watches, clocks and speedometers were all the rage in the 70s" adds Kretschmar. "They didn't last long because it takes too much cognitive effort to analyze and interpret numbers. However, the brain easily interprets analog displays." Seven bright LEDs comprise the EasyCheck Verification display on the LRD6300. It is specifically designed to be seen and interpreted from ten feet away.
Lion Precision also makes an ultrasonic clear label sensor. To help users choose the right technology, they did a study to determine differences in performance between ultrasonic and capacitive clear label sensors. Capacitive technology was far more accurate and faster than ultrasonic. A website, labelsensors.com was created specifically to discuss the differences in the technologies and help visitors make the best choice for their application. The site includes a whitepaper on the comparison study's results.
The LRD6300 includes NPN and PNP outputs. Light/Dark switching selection and is available with an integral cable (LRD6300) or 4-pin M12 connector (LRD6300C). It is a direct bolt-in replacement for the LRD6110 and LRD2100.
More information on the LRD6300, including setup video, is available at LRD 6300. The sensor can be purchased directly from the factory by phone or online from the Label Sensor section of www.lionprecision.com.
For more information, contact Lion Precision:
Lion Precision
563 Shoreview Park Road
St. Paul, MN 55126 USA
651-484-6544
www.lionprecision.com
info@lionprecision.com