Eddy-Current TechNote LT02-0010
Copyright © 2007 Lion Precision. www.lionprecision.com
Summary
Eddy-current probes require a minimum target area for calibration. Our precision calibration instruments have maximum target size limitations. The following parameters are provided to eliminate any additional tooling costs for calibration to custom targets.
Customer Supplied Targets
Cross-Sectional Area:
Minimum:
The target surface being measured must fit a circle which is 3X the probe's diameter 

Maximum:
Probes U3-U18: Height and Width Maximum – 3", 75mm
Probes U25-U50: Height and Width Maximum – 6", 150mm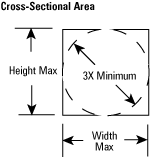 Thickness:
Range: 1/16" – 1/8", 1.5mm – 3mm
Curved Targets:
Curved targets must have a flat side for mounting against the calibrator's actuator. For adequate target thickness, the edges must also be squared as shown in Figure 3. The cross-sectional area must still meet the requirements listed above.