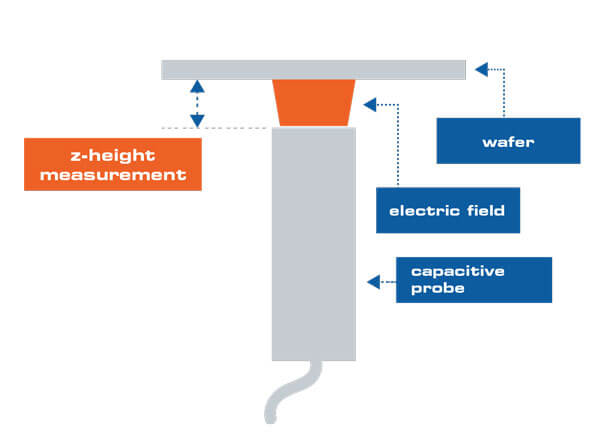 A Lion Precision Capacitive Sensor in mounted below a semiconductor wafer. The Lion Precision capacitive probe sensing element averages over a relatively large area on the surface, making it ideal for "Z-height / focus" detection on an automated inspection system.
Backside Inspection and review are critical stages for determining whether wafers have become contaminated with
particles due to a tool malfunction or process problem. Contamination can lead to reduced yield. Because contamination can cause stepper hot spots or further contamination of process tools, it is highly desirable to detect contamination before it creates further problems.
Besides wafer backside inspection applications, Lion Precision sensors can be used for Z-height displacement measurements on other types of microscopes and optical based metrology systems.
Z-HEIGHT DETECTION FOR BACKSIDE SEMICONDUCTOR WAFER INSPECTION
Application Notes
Glass, Film, and Other Nonconductive Material Measurement with Capacitive Sensors