F

or Fast Steering Mirror &

D

ifferential

S

ensing

Applications
Discover the EDA400 Eddy Current Sensor-Driver System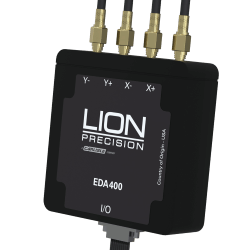 The EDA400 controller is the ideal off-the-shelf solution for Fast Steering Mirror (FSM) and differential sensing applications. The system comes with two matched pairs of high resolution non-contact Eddy Current sensors, a driver with four sensor inputs, an analog or digital output and a 9-Pin connector interface for easy connectivity. Watch the video for a breakdown of the EDA400's features and applications.
Interested in getting an EDA400 Eddy Current Sensor-Driver System for your project? Talk with our experts today for help.
Applications:
Fast Steering Mirrors (FSM)

Telescope and microscope stabilization
Image stabilization
Features of the EDA400:
High bandwidth
Extremely low power consumption
Excellent temperature stability
Very low mass
Nanometer resolution
Matched sensors for high stability and repeatability
+/-15 VDC input power
The EDA400 system can be customized for specific applications and is also available as a board without an enclosure for space savings and easy integration into a control system.
Continue reading about the EDA400 and its features or contact us for a custom sensor-driver solution.  
Get in touch for more information about the EDA400 or for a personalized Fast Steering Mirror solution.
Find more sensing solutions by visiting our products page.