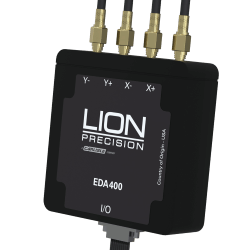 The EDA400 controller is the ideal off-the-shelf solution for Fast Steering Mirror and differential sensing applications. The system comes with two matched pairs of high resolution non-contact Eddy Current sensors, the driver with four sensor inputs, an analog or digital output and a 9-Pin connector interface for easy connectivity.
Thinking in get the EDA400 for your project? Get in touch with our experts and let's talk about your questions and how can we help you.
Applications:
Fast and Fine Steering Mirrors (FSM)
Telescope and microscope stabilization
Image stabilization
Features:
High bandwidth
Extremely low power consumption
Excellent temperature stability
Very low mass
Nanometer resolution
Matched sensors for high stability and repeatability
+/-15 VDC input power
The system can be customized for specific applications and is also available as a board without an enclosure for space savings and easy integration into a control system.
Get in touch for more information or a personalized solution
Find more solutions visiting our products